cStor and Commvault come together to support Urban Education for Underprivileged Youth in Arizona by donating $5,000 to Elevate Phoenix on Thursday, December 12, 2013.
cStor and CommVault combined efforts to support Elevate Phoenix urban education program. Collectively the two companies will donate $5,000 to the program. Representatives from each company will present a check to Tim Cleary, Elevate Phoenix Executive Director on December 12, 2013, at 1:00 pm at Larry C. Kennedy School. The school is located at 2702 E. Osborn Rd in Phoenix.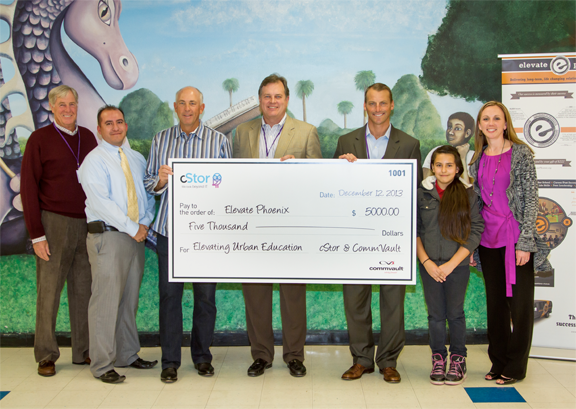 Elevate Phoenix is a unique program for Arizona urban youth. Together with public schools and an ethnically diverse full-time staff, they work to empower kids through teaching character, life skills and leadership development. Success is measured by the high percentage of the kids that thrive in the program. "cStor is an Arizona-based company and committed to supporting local community efforts," said Larry Gentry, President and COO of cStor. "This is a strong value of the company and its employees."
cStor recently hosted their sixth annual Arizona CIO Leadership Summit that featured keynote speaker and professional golfer, Tom Lehman. In lieu of a speaker fee, Lehman requests donations to Elevate Phoenix, an organization which he also serves as a board member. After the presentation of the check, Tom Lehman, cStor, CommVault, and 15 business leaders, will begin a site observation visit at 1:30 pm of the Elevate school program with the 4th and 5th-grade classes completing the tour at 3 pm.
About cStor:
cStor helps companies strategize, create, and implement data center solutions that address business needs. Now more than ever, innovative clients know that IT can be a highly-impactful enabler of business transformation, cost reduction, and competitive advantage. cStor's proven capabilities with key data center technologies provide clients with a fresh perspective, the ability to collaborate with recognized data center experts, and the confidence that goals will be met. cStor's team dedicates significant amounts of time and energy to be proficient in data center technologies. Hundreds of clients understand this value proposition—they know a focused, collaborative relationship with a creative, knowledgeable partner delivers superior results.
https://cstor.com/cstor/about-us/
About CommVault:
CommVault's flagship product, Simpana Software, is built from the ground up on a single platform and unifying code base for organically integrated data and information management including Data Protection, Archive, Replication, Resource Management and Search.
http://www.commvault.com/about-us
About Elevate Phoenix:
Elevate Phoenix is a comprehensive, out-of-the-box, full-time, non-stop relationship-based solution to meet the needs of urban kids, schools and communities. It's changing lives for better futures. 98% high school graduation, 90% postsecondary entry, 93% postsecondary retention rates with kids facing drugs, gangs and generational poverty challenges illustrate Elevate's impact with thousands of students.
http://elevatephoenix.org/v2/
About Custom Storage
Custom Storage specializes in architecting and implementing complex information management solutions designed to leverage virtualization and reduce costs while providing high availability, application performance improvements and improved data protection techniques. Custom Storage is privately held and is headquartered in Scottsdale, AZ. To learn more about Custom Storage and the Imagine Virtually Anything Alliance between Cisco, NetApp and VMware, call (480) 760-2100. Visit Custom Storage online at www.customstorage.com.