Awards recognize channel partners for their commitment to helping customers protect data from insider threats and cyberattacks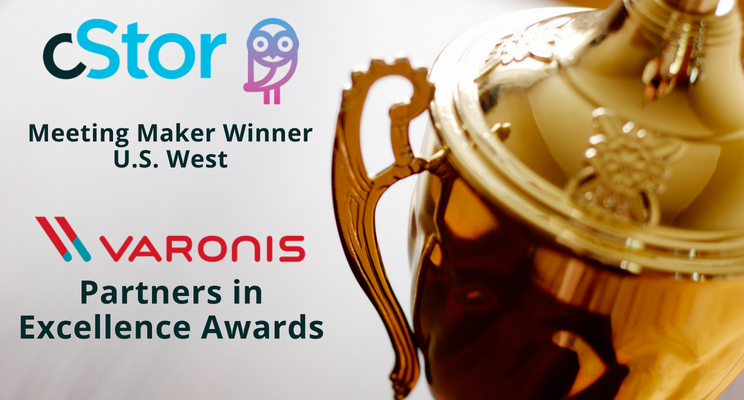 Scottsdale, Ariz. June 7, 2018 – cStor, a leading provider of data center, cloud, virtualization and cybersecurity solutions, today announced the company was honored as the Meeting Maker Winner of the U.S. West in the inaugural Varonis Partners in Excellence awards. The program honors Varonis' channel partners that have gone above and beyond to bring industry-leading data protection solutions to their U.S. customers during the first quarter of 2018.
Varonis provides data security and analytics solutions focused on protecting enterprise data: sensitive files and emails; confidential customer, patient and employee data; financial records; strategic and product plans; and other intellectual property. Varonis' channel leadership determined the winners for U.S. East, U.S. West and federal territories based on the achievements of the partners.
"We are honored to be recognized in Varonis' first-ever partner award program. We believe it demonstrates our commitment to providing our clients with the best solutions to help keep their organizations secure from the growing cyber threats they face every day," said Larry Gentry, president and CEO of cStor.
"The Partners in Excellence awards celebrate our partners' dedication, contributions and results," said Mark Wilcox, vice president of channel operations and strategic accounts at Varonis. "At a time when the average organization has 21% of its folders open to every employee, data-centric security approaches are critical to combat today's cybersecurity threats. Our partners are rising to the challenge by working to help ensure that our customers' data is protected from internal and external attacks, in compliance with requirements such as the GDPR, and governed to a least-privilege model."
About cStor
cStor helps companies strategize, create and implement data center, cloud and cybersecurity solutions that help clients use IT to enable business transformation, reduce costs and gain competitive advantage. cStor's proven capabilities with key data center and cloud technologies give clients the ability to collaborate with certified experts, and the confidence to move business forward faster and more efficiently than ever before. cStor serves clients across the southwest region with a focused, collaborative approach and superior results. For more information, visit www.cstor.com.