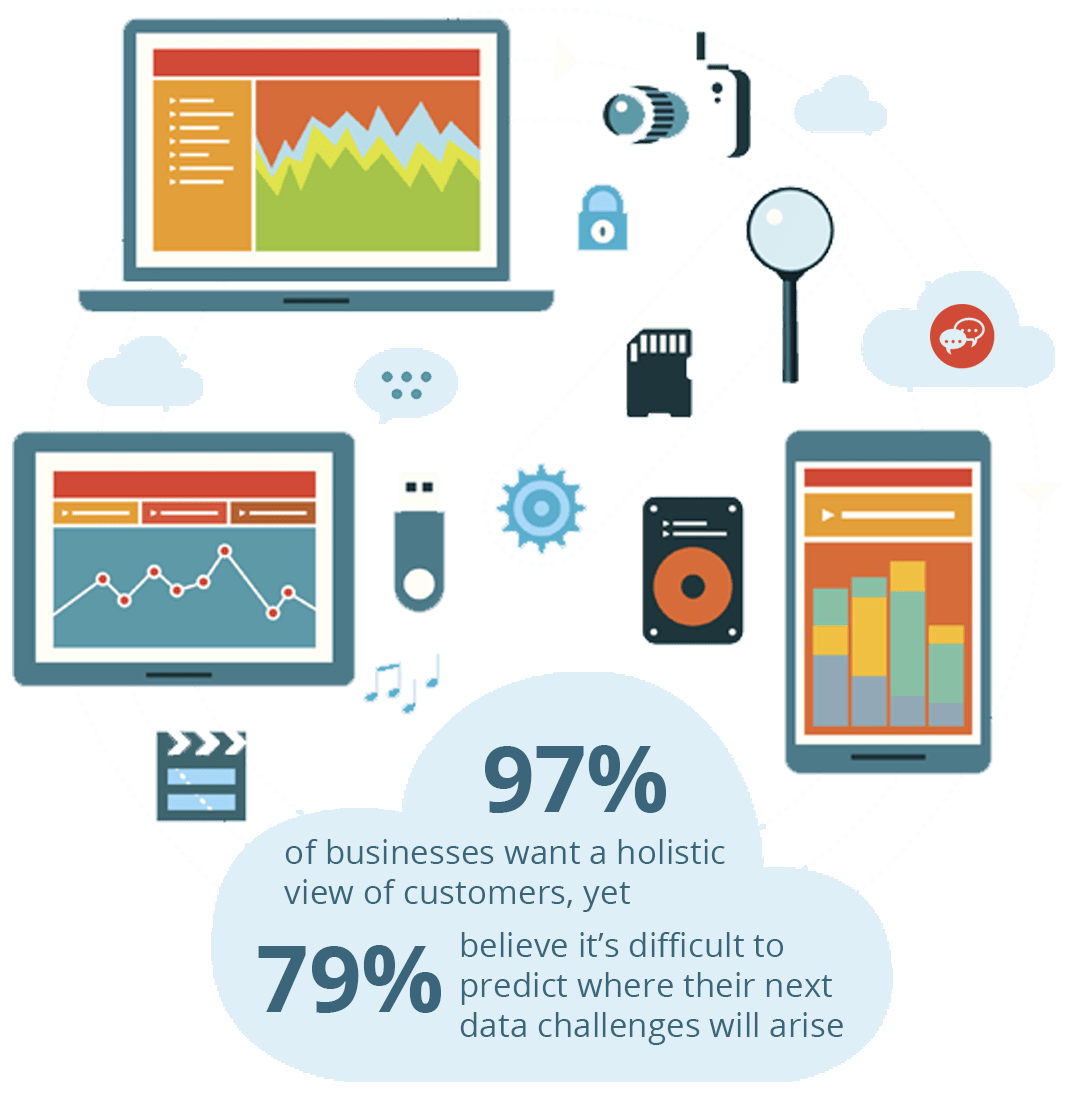 Transforming Your Data Protection Program
With the advent of today's new cloud technologies, businesses are faster, more dynamic and more data-driven than ever before. However, with these great benefits comes great challenges, putting pressure on IT departments. Businesses rely on larger quantities of more critical data than ever before, making data loss increasingly problematic. Likewise, security threats and natural disasters continue to threaten data centers.
This calls for a new approach to data protection. As the effectiveness of traditional approaches wanes, technology innovations and the cloud are creating new possibilities for data protection. cStor can help you uncover the best new Data Protection technologies to help you optimize your data protection program.
5 KEY COMPONENTS OF A MODERN DATA PROTECTION STRATEGY
NOT HAVING DATA PROTECTION EQUALS FAILURE

Sources: www.datacenterknowledge.co; Business Continuity and Disaster Recovery Planning
for IT Professionals, by Susan Snedaker; Richmond House Group; National Archives and Records Administration in Washington
Backup and Recovery

Today's virtualization and cloud environments provide increased flexibility and agility, making your data easily and quickly accessible. Your systems are reconstructed using the most up-to-date version of your data and rebuilt in a virtualized environment, making for fast and easy machine provisioning. Once all data and applications have been recovered, your employees gain secure access to the recovered systems quickly so they can resume operations as normal.
cStor will work with you to help you select the optimal solution for your Backup and Data Recovery needs, helping you to:
Significantly reduce cost and complexity
Provide a range of cloud options (public, private, hybrid) to fit your specific needs
Easily scale and adapt based on shifting needs or resources
Conform to the latest compliance standards
Business Continuity

Business Continuity focuses on creating plans of action and systems to prevent negative consequences of threats and disasters from occurring. Business Continuity is critical to ensuring business remains uninterrupted and mission critical services remain running at all times.
Today's businesses are challenged with creating a Business Continuity system that can stand up to accelerating data growth, complex data systems, organizational scaling, and varied data locations. Add to that a disparate combination of old-school and emerging solutions, and businesses are challenged with a quickly evolving Business Continuity landscape.
cStor can help you cut through the complexity to help you find the optimal solution to meet all your Business Continuity goals including:
Analysis
Solution Design
Implementation
Maintenance
Archive
Today's IT departments must deal with accommodating and storing rapidly expanding data sources. Since primary storage may be more limited and cost-prohibitive for long-term storage, businesses can archive their older, less accessed data to save money and free storage space. cStor can offer your organization an archival solution to help you:
Creatively classify data for archiving preparation
Provide long term data retention
Cost-effectively store required data
Conform with regulatory and compliance mandates
Replicate
cStor offers data replication services for multiple sites, servers, databases or data sources, ensuring accuracy, consistency and efficiency of your data protection program. cStor replication services help you:
Replicate data to disk or other asset
Provide real-time or near real-time replication (Business Continuance)
Restore subsets of data for Disaster Recovery scenarios
Simplify application and other forms of testing
Multiple Copies
Providing multiple copies of data has become common practice for any company that needs to store or access data. Multiple copies ensure your data is readily available as part of your Business Continuity plan. Code and data can quickly be restored from the media to production servers. Data copies are commonly used for backup on premises, off premises, and in the cloud, as well as for testing, migrations, business continuance and disaster recovery. Data is often mirrored to other locations, leveraging any one of several technologies. cStor can help you find an optimal solution to for your multiple copy needs including:
Need analysis and definition
Efficient management of your multiple copies
Compliance and regulatory fulfillment
Optimization of your data protection program
VIDEOS
Why Tape Matters in Big Data and Cloud
Is Disk Now a Viable Solution for Archive?
CASE STUDIES
DATA SHEETS
SOLUTION BRIEFS
WHITE PAPERS